Disclaimer
Hi, just letting you know that all products recommended here have been used by me, or are properly researched to ensure they are the best you are getting without bias.
I am also an affiliate for certain Amazon products and this means that some links here are affiliate links. If you purchase an item through any of them, I MAY earn a commission at no extra cost on you.
Kids, just like adults, can grow fresh herbs indoors too, such as oregano and Genovese basil for a pizza party. They can have fun while growing fresh herbs indoors using the handy, fun and efficient Herb Garden for kids.
If you have a little one and you want to keep them productive at home, show them how fun growing plants can be and have them enjoy themselves with every bit of herb grown, then this post is for you. Here I'll show you an amazing kids' aerogarden garden unit which you can get for your little one and also let you in on all you need to know about the Herbie garden.
A little about the AeroGarden Herbie Kid's Garden with Pizza Party Kit
The Herbie is actually the first AeroGarden for sprouting young gardeners ages 6 and up. With the unit, your kids will go on an indoor gardening adventure for 12 weeks which ends in a pizza party using their very own homegrown herbs
Kids can have so much fun gardening alone, with friends or with their parents. And to ensure that they enjoy this to the fullest, the Herbie kids' pizza party herb garden activity kit comes with a 32-page activity book, plant food, grow sponges, domes, dropper, erase marker and tape. It is a hydroponic growing device suitable for maximum productivity and ease of use with several seed pod kits for kids. It has a Wi-fi drive, touchscreen and efficient LED lighting to make the whole growing process a breeze.
This aerogarden unit surely gives children the chance to enjoy about eighteen (18) fun-filled activities while using their aerogarden to grow all sorts of herbs at the same time and at the end of which they can throw a lavish party with the very vegetables they grew with their kits. How very marvellous indeed!
To enable them to enjoy the garden even more efficiently, it's best to select only non-GMO seeds that are known for maximum growth, brilliant colours and bumper yield which will also thrive without the need for pesticides or herbicides and with complete germination guaranteed.
Why the kids' Herbie garden is best for kids
The Herbie garden is a must-have for kids and here are a few reasons why:
The kids' Herbie garden can grow a wide range of herbs that are suitable for a pizza party and the seeds in these kits are specially selected for their excellent yields, growth and germination guarantee.
As they grow their herbs, the kids will also find kid-related activities to engage them contained in these kits.
The kits are suitable for kids from six years of age upwards and are perfect for teaching them gardening-related activities.
You can use the herb garden to catch your kids young and get them into the habit of growing what they eat early. They would definitely grow up to be amazing gardeners who rely on fresh foods for healthy living always.
A review of the kids' Herbie kids aerogarden
The Herbie garden for kids is one of the first aerogarden units for kids which has served a lot of children. It is an easy-to-use unit and kids love it no doubt. Here let me share with you what people are saying about these kids aerogarden and also the features, pros and cons which you should know.
Features:
The Herbie kids' pizza party kit is equipped with 3, 6 or 9 pod sizes that enable you to grow a wide variety of plants.
It has a LED lighting system which is brighter, costs less to operate and lasts longer than the fluorescent light varieties.
The kid's garden enables you to grow fresh herbs regardless of any seasonal limitations in most climes; your kids can now grow veggies all year round.

The kids Herbie comes with everything they will need. This includes Grow sponges, Grow domes, a measuring cup, seeds, plant food, a dropper, a dry erase marker and even a tape. With all these the Herbie will be set up in just a minute or two and then the fun begins.

With this Herbie aerogarden unit, your kids just need to add water and plant food to the seeds for the magic to start. The plants grow hydroponically so there's no soil needed and no mess.

The sponges that accompany these aerogardens are produced in different parts of the world by reputable organisations such as the Canadian Sphagnum Peat which provides soil-free, mess-less indoor growing all year round.

From seeding and planting to pruning and harvesting, your kids will love the whole process as there are 18 different fun and educational activities.

The kits are very compact, beautiful, and hydroponics that doesn't take up much space or cause any mess indoors.
This garden kit is manufactured from refined materials that are tough, beautiful and very resistant to corrosion and rough handling as may be occasioned by childhood exuberance, which was anticipated in designing it.

It comes with a 32-page activity book that makes the magic of hydroponics come alive every step of the way.

The Herbie comes with a safe-to-the-touch energy-efficient 8Watts LED grow light. You can simply turn it on when you wake up and turn it off when you go to bed at night.

Once the seeds germinate, your kids will be amazed at how fast the plants will grow in the Herbie garden.

The seeds that come with the unit are all Non-GMO so you can feel good about what your kids grow.
Pros:
The unit looks awesome and is perfect as a gift item for your little ones.
They are very easy to use, grow, clean and maintain at very negligible costs.
They are a little bit bigger than most other conventional indoor gardening systems for kids.
Their LED light bulbs make them cost-effective and extremely efficient too.
They produce yields within a very short time to enable your kids to get both regular and early harvests.
The Herbie kit permits your kids to grow a wide range of plants due to their multiple seed pods.
Cons:
The kit still consumes some power despite having a lot of energy-saving components.
They are not big enough to compete with huge veggies in terms of production.
Placing the pods properly can be a little panicky, especially for newbies.
Sometimes, their light timers can be unpredictable.
They are not all that cheap compared to other do-it-yourself (DIY) kits.
What people are saying generally about the aerogarden for kids:
Most comments about this aerogarden centre on their impressive and fast plant growth rates. For instance, many people have commented that after just seven days, the new plants have begun to sprout well; a fact which is quite exciting to most kids who can hardly resist the urge to touch the young buds.
They have also agreed that after just two weeks, the caps on the plants that serve as greenhouses, began to come off when the young plants touch them. The removal of these caps takes longer in most other kids' indoor systems but not those with very fast growth rates.
Furthermore, after an average of about twenty-five days, the herbs began to take shape, though some plants like the oregano may still retain their caps on. The basils will start flexing and looking like small trees in comparison to other plants on the kit about one month after planting the seeds which coincides with the time the oregano will lose their caps. At about two months from the planting of the seeds, the kids will most likely start regular harvests to enable them to flavour their dishes. Children dig this stage a lot no doubt.
Another common eulogies this kit enjoy is the fact that its products give the home a refreshing fragrance, new lease of life that excites the kids and also a greenish sight to behold. They not only allow the kids to grow plants indoors but also the chance to learn a lot and develop into rational persons from an early age. The need to care and nurture with loving devotion is instilled in the children early enough as they are growing; a trait that is almost in short supply in the modern world we find ourselves.
Common questions people ask about the Herbie garden and their answers
This kid's garden has gained a lot of popularity. It is normal for such to also gain a large fanbase curious about the product. There are tons of questions people ask about the unit and I have gathered the most common ones to provide answers to them. Here are the most frequent ones (feel free to drop in the comment any question you may have which is not here):
1.       Who are the manufacturers of the kids' aerogarden?
This aerogarden for kids is also manufactured, like most other reputable aerogardens worldwide, by Miracle-Grow, a household name everywhere when it comes to indoor gardening, the world leader in indoor gardening systems with over 1,000,000 AeroGardens sold. And the AeroGarden Herbie was developed from over a decade of research in hydroponic garden technology.
With this unit, you and your kids can count on having a fun experience growing the freshest plants fast in a garden that works great again and again. Once you all have enjoyed the included Pizza Party Herb Garden Activity Kit, get ready to try the additional activity kits you will find with it.
2.       What is the Aerogarden Herbie's average price?
Though prices are bound to slightly differ from place to place because of a multitude of reasons that may be connected with shipment costs, discounts and other credit facilities; the average cost of a Herbie aerogarden kit starts from about eleven dollars and ninety-six cents ($11.96) and can go as high as seventy-eight dollars and ninety-nine cents ($199.99). Again, the cost depends on a lot of things. Keep in mind too that the kit may cost a little less where there are deals, and discounts, especially in bulk or wholesale purchases of the item.
So, if you are looking at getting kiddies aerogarden for your little ones, you need a budget of at least $200. If you need to buy other little things that come with buying the unit itself, you may need more than that. Things like new seeds, spare light, plant spacers, other kids' fun growing activity kits and anything else you might find useful to buy for them and increase the fun.
3.       Where to buy the Herbie aerogarden for kids in Canada, UK and USA?
This amazing Herbie kit for all aerogarden lovers, particularly those who have kids, is available on Amazon. This is simply because Amazon is a major supplier of most, if not all, MiracleGrow products worldwide. Additionally, you can buy it on the aerogardens official website or BestBuy or Kohl's site.
If you want to get it on Amazon, you can click this link to be taken to the page where you can order one for your kids. Keep in mind though, the seller is the only one who has that on Amazon and many buyers have complained of not receiving all they were expecting. If you do not want to take your chances with the hope that you will receive everything completely, you can choose to buy the Sprout Garden. It is still a 3-pod unit and the size and features are very appealing to kids.
They will also be available if you need to lay any complaints you may have or give suggestions and make enquiries about the aerogarden as the case may be.
4.       What are the activity kits refill aerogarden?
The activity refill kits are mostly sold separately from the Herbie aerogardens themselves and contain seeds you can use to grow different plants. They are also provided with non-GMO seeds that are known for very fast growths, impressive yields and resistance to most plant pests and other common plant pathogens. The seeds are of various kinds to enable you to grow whatever plants you choose to without stress; a fact which is made possible by the multiple seed pods that are provided in the Herbie aerogarden kit.
They are also sold under conditions that assure both refund and replacement instantly should you have any complaints with the product by simply lodging such requests or even by just reaching out to their customer care service which is available all day long and every week.
5.       What can you get from the Herbie aerogarden?
The primary purpose of every aerogarden is to grow vegetables and other plants indoors without the need for soil and at ease. With the Herbies, your kids can get a lot of plant yields depending on what seeds they put in. The type of seeds you can grow on the kids' Herbie aerogarden is by no means limited since all varieties are available.
Additionally, these Herbie aerogarden kits allow your children to develop mentally, physically and in all spheres of growth. They equally refreshen your home with a natural fragrance that cannot be bought off the shelf of any modern departmental store as well as a marvellously deep greenish sight to the relish of all visitors. The list of what you can get from these aerogarden kits is by no means exhaustive, but those mentioned here will suffice to encourage you and your kids to venture into indoor plant growing.
6.       Setting up & using the kids' Herbie aerogarden?
Here is the simplest process to go about setting up and using the aerogarden:
– Everything you and your kids need to grow and enjoy the best garden yields and have a thriving indoor garden is included. Alongside the Kids' AeroGarden Herbie, you will get 1 Pizza Party Activity Booklet, 1 Marker, Basil and Oregano Seeds, 1 Measuring Cup, 1 Dropper, 2 Domes, and 1 Plant Food (3 fl oz).
– Setting the kid's garden up is quick and easy. All you need to do is add water, plug it in, and press the power button so the bubbler and LED light turn on. If you are nervous about how to set up this aerogarden unit properly, the included activity booklet takes you through all the steps.
– After setting up the unit, you should then proceed to sow your seeds in the seed pods after adequately supplying them with water and essential nutrients. Luckily, most modern aerogardens are equipped with features through which the aerogarden can alert you for any lack of its essentials like water and nutrients.
– The seeds supplied with these kits are among the best you can get anywhere for their rare and highly commendable qualities. As the plants grow and blossom, you may be required to adjust the height of the light that supplies the plant with the necessary illumination for growth by adjusting the trellis.
– Cleaning and regular maintenance of the aerogarden unit are also simple enough and the user manual will give you all the guidance you may require to do that properly.
7.       How best to use the kids' Herbie aerogarden for maximum enjoyment?
Using the kids' Herbie aerogarden is not much different from how we use all other aerogarden models. Your kids will love every single thing about the unit. If you want to put them through the process of growing fresh herbs for a pizza party, here are the 3 steps involved:
Get your kids to learn all about hydroponics and indoor gardening with a fun, and easy step-by-step user manual that comes with the unit. From there they will plant their own seeds and learn how to care for the plants as they grow. It won't be long until they sprout, and the fun included activity booklet will guide them throughout the entire exciting process.
Before you know it the kids will be harvesting fresh herbs that they grew all by themselves. If they got herbs growing, the lush oregano and basil herbs will be the perfect topping for pizzas. They can also be used throughout the 18 fun activities included in the booklet which include drawing a face on your Herbie with the included marker, making leaf doodles, learning about how plants sweat (transpiration) in an experiment, drawing plants that are out of this world and trying these fresh herbs on a variety of foods, including macaroni and cheese, ice cream, and popcorn. And of course, they will learn science concepts while doing fun experiments and art projects.
The best part about your kids growing their own plants is enjoying them. What better way to celebrate the experience of growing their very own fresh herbs than to invite friends over for a pizza party? They can go ahead and make the delicious pizza recipe included in the activity booklet and then top their creation with freshly grown basil and oregano. Trust me, it would be so much fun.
What are the plants to safely grow in the kids' aerogarden?
The kids' Herbie aerogarden allows you to grow an assortment of crops since it has multiple seed pods and in each of these seed pods, a different plant can be grown. For instance, you can conveniently grow such crops as basils, flowers, oregano, mint, lettuce, and lots more.
You can decide on what to grow in these kits by making the correct choice of the appropriate seeds you need. All seeds are guaranteed to flourish well since they are carefully chosen such that you do not need to apply herbicides or pesticides because most of these seeds are resistant to common plant pests.
Has the aerogarden Herbie for kids been discontinued?
Yes and no. Yes, the kids' garden has been discontinued because the manufacturers, in a reply to my tweet, stated that they are no longer producing the model again. This would probably explain why some of the units still found around the market are not usually complete.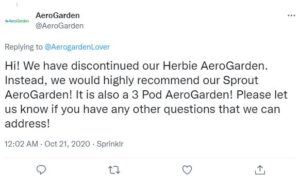 And no, the Herbie garden has not been fully discontinued because a few resellers still have it in-store and are still selling it to interested buyers. So, if you are lucky, you right stumble upon one of the ones sold by resellers and you can get a unit for your little ones.
For what it is worth though, the aerogarden Herbie for kids was recently improved to make it much more productive, easier to use and cost-effective. Most older versions of the aerogardens used fluorescent light to operate. However, the recent innovation in technology has introduced the light-emitting diode(LED) light which consumes less power to operate and hence, saves you money from extra electricity tariff.
The Herbie aerogarden also spot features that make their operation easy and fun to undertake. If you can lay your hands on one of the much-improved products, you and your kids are sure to enjoy the more attractive unit that provides a better boost in yield.
Recommended products to go with the Herbie Garden
Like most items or products for daily use in our homes, the Herbie aerogardens have some extra recommendations you can purchase to make the fun gardening experience a much better venture for your kids. Below are some of these items you can buy alongside the unit that would make the whole process an amazing one:
1. Aerogarden Kid's Snapdragon Seed Pod Activity Kit:
This product contains snapdragon flower seeds, a 32-page activity book, plant food, grow sponges (4), grow domes (2), dropper, dry erase marker and tape. It is sure to give your kids the most memorable indoor gardening experience without soil and hence no mess whatsoever. All the seeds are non-GMO and resistant to most common plant pests.
If you want to get one for your kids, click this link to be taken to the page on Amazon where you can make an order and get your kids to have so much fun growing up.
2. 

AeroGarden​ Kid's Mint Ice Cream Social Garden Kit:
With this garden kit, your kids can successfully grow fresh mint for a mint ice cream social which they would enjoy no doubt. The kit includes mint seeds, a 32-page activity book, plant food, grow sponges (4), grow domes (2), a dropper, dry-erase marker, and tape. With the kit, they can enjoy the magic of hydroponics come alive every step of the way and get excited about the thought of having mint harvest in no time!
If you want to get this for your kids, click this link to be taken to the page on Amazon where you can place an order, get it in no time and watch your kids enjoy healthy mint ice cream!
3. AeroGarden ​Kid's Lettuce Garden Activity Kit:
Sharing has always been caring. If you can get this kit for your kids, you are sure to teach them what sharing is all about. This activity kit that contains romaine seeds, a 32-page activity book, plant food, grow sponges (4), grow domes (2), dropper, dry erase marker, and tape; can provide your kids with a lot of fresh romaine lettuce harvest which they can joyfully share with anyone including pets! Not to mention the excitement they will experience watching their plants and tenderly caring for them till harvest.
Head over to this Amazon link to order one of these garden activity kits which your kids would love and forever be grateful for.
4. 

Hydroponics and Greenhouse Gardening: 3-in-1 Gardening Book to Grow Vegetables, Herbs, and Fruit All-Year-Round

:
Are you new to the whole indoor gardening system? Do you want to be well versed in the subject matter so that when your kids run to you for help with their questions, you do not get speechless? Then this manual is for you.
The manual equips you in all aspects of indoor planting; starting from the choice of the seeds, care and maintenance, down to everything that will ensure your success in indoor gardening. It is a must-have for all indoor garden lovers and those who are likely to venture into it in the future.
The title says it all and you can be sure of learning almost all you need to know about indoor gardening. Once you are done, you can even call yourself an expert in one; well, as long as you put everything into practice, lol (see this post if you are not sure yet – Should I Get An Aerogarden?).
Click this link to check the book out on Amazon and order one. Then you can grab all the knowledge you can about indoor gardening and run it successfully.
Conclusion
Who doesn't love a good pizza party? With this AeroGarden Kids Herbie garden, your kids can go on an indoor gardening adventure and fully enjoy the whole journey. For 12 weeks, their excitement to watch and enjoy the two pizza herbs that come with it, while also enjoying the 18 fun-filled activities would definitely know no bounds. At the end of the time period, they can go ahead to throw a pizza party for friends using the fresh herbs grown by themselves!
Since plants grow without soil, it may at first seem magical for them, but the reality is it is all science; this even adds more to the whole learning process they will enjoy. By growing herbs hydroponically, they will learn how water, oxygen, nutrition and light can help a plant thrive.
So, what are you waiting for, head over to this Amazon link to buy one of these for your kids and have them enjoy gardening in… 3, 2, 1! GROW!
Please follow and like us: