Disclaimer
Hi, just letting you know that all products recommended here have been used by me, or are properly researched to ensure they are the best you are getting without bias.
I am also an affiliate for certain Amazon products and this means that some links here are affiliate links. If you purchase an item through any of them, I MAY earn a commission at no extra cost on you.
Items washable in a dishwasher are those which do not bear any risk during washing in the machine. But if they have any components that can be affected while being washed in the machine, then, they are not recommended for washing in it. Components like some plastic parts and electrical parts are not totally recommended for dishwashing. The aerogarden has plastic components, so, is it safe in the dishwasher? Let's find out in this article.
You first need to understand that the grow deck and also the bowl of the aerogarden are said to be dishwasher-safe but not the other parts. It is therefore advised and very strongly too, that even though some parts of the aerogarden are dishwasher-safe, the same cannot be said about the entire aerogarden; it is best to only use the dishwasher for the safe parts. If you want, you can simply clean your machine manually using ordinary cleaning agents such as chlorine bleach, vinegar, washing soda, or water.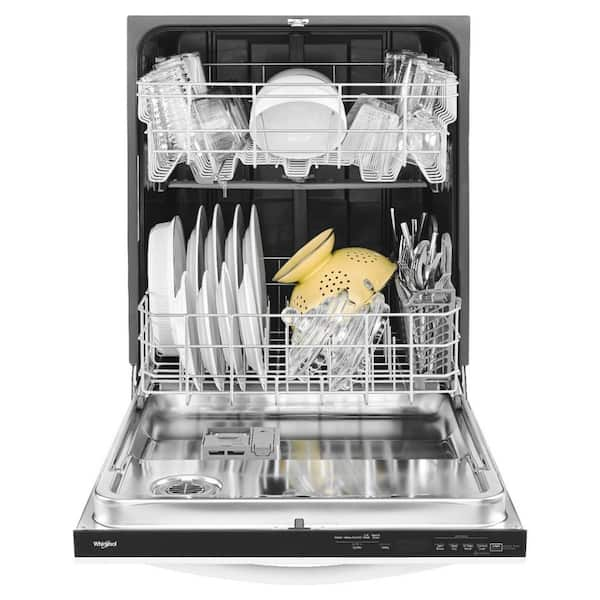 Continue reading to find out more about cleaning your aerogarden in a dishwasher, what it involves, how to go about it, the best dishwashers to use to clean your unit and more information you would find to be helpful.
Is the aerogarden dishwasher safe?
No, the aerogarden itself is not dishwasher safe, but some of its components are, so, if you want to wash it in a dishwasher, wash only the grow deck and its bowl, but wash all the other parts manually. Notably, the black cord that connects the aerogarden pump to the base of the bowl is dishwasher safe, but all other parts of the aerogarden, like the base, light hood and screen area are not dishwasher safe.
Furthermore, it is strongly advised that you do not try to wash the aerogarden as a whole in a dishwasher because apart from possible damage to the plastic parts of the equipment, washing it in a dishwasher usually leaves the inside of the dishwasher dirty. So, if you want to wash it well and thoroughly, you should disassemble all parts, throw in the deck and bowl into the dishwasher and wash the others manually. Here is a full post on how to wash your aerogarden manually. 
Advantages/Disadvantages of washing an aerogarden in a dishwasher
Although it has been strongly warned that washing the aerogarden itself in a dishwasher is not advisable, still some of its parts can be washed in the dishwasher very safely. Washing your aerogarden in a dishwasher has both advantages and disadvantages and here are major ones:
The only good thing is that washing the unit's safe components in a dishwasher is a lot easier and takes a much shorter time to accomplish too.
As for the downsides, washing this indoor gardening masterpiece in a dishwasher can affect its plastic parts, which are said not to be safe for that mode of cleaning. Again, when you wash the equipment in a dishwasher, there is the chance of the hidden or internal recesses of its bowl and other components not being washed properly. The equipment is not as properly washed by a dishwasher as it is done when cleaned manually.
What do people say about washing aerogarden in a dishwasher?
On popular forums and social media, some people do share from personal experience that their aerogardens are best cleaned manually as the dishwasher do not always give them what they want. There is still the group of people who prefer dishwasher cleaning to hand cleaning as they agree that it cleans quickly and better.
Most experts agree on manually cleaning the machine as the best against all odds. They kick against washing the aerogarden unit in a dishwasher. This is basically because the dishwasher may end up damaging the plastic components which could ruin the machine entirely. In addition, if you use a dishwasher in cleaning the machine, the inside surface of the equipment may not be cleaned or sanitized properly enough, which you are expected to do before the next planting season.
This all goes down to personal choice as different people have different things to say. If you must use a dishwasher in cleaning your aerogarden, then you should do so with only those of its parts that are dishwasher-friendly. One way to find out which parts are safe and which ones are not is to consult the accompanying user manual or the customer service department of the manufacturers. If they insist that no component in the aerogarden model you have is dishwasher-safe, then do use it, lest your unit picks up problems you don't need.
Simple steps to wash your aerogarden safely in a dishwasher
If you really want to go ahead to use the dishwasher to wash your aerogarden, the following steps will guide you on how to properly clean your aerogarden safely in a dishwasher without fear of damage:
1. First, you should place both the grow deck of the unit and its bowl in the dishwasher. Expectedly, you may be worried about the black cord that connects the pump to the base of the bowl with regards to washing it in water. Never mind that you can get it fully wet, but make sure that it is fully dried and devoid of any moisture before you replug it back into the socket.
Note that, on the bottom portion of your grow deck, there are 4 tabs. Make sure to push down on them all, which will eventually separate its 2 pieces. In case anything like previous roots or plant food debris is trapped in the middle of the grow deck, you are advised to clean it out too.
2. With those parts in the dishwasher, you should run a regular cycle of washing. This involves turning on the machine, adding a 1:3 ratio of vinegar and water respectively and letting the water pump circulate the parts for about 5 minutes.
3. After the pump stops, you may refill the bowl once again with clean water only and repeat the process. You can do this one more time until you are satisfied with how clean it is.
4. Take out the parts when done and allow all the washed components to fully air dry.
5. Use soapy water and a clean towel to wash the other parts of the aerogarden. Just be sure that the towel is well-wrung before touching the electrical part.
6. After this. use clean water and a clean towel to rinse off the soap from the areas you just cleaned.
7. Set these parts aside and let them air dry before you reassemble the machine.
The best dishwashers for your aerogarden unit
If you must use a dishwasher to clean your aerogarden, it would be best to go for one that would serve you just fine without any issue along the way. There are two of such dishwashers I personally recommend as I have read people's experience with it for their aerogarden and have also used it at some point.
The first is the Frigidaire 24 Inch Built-In Full Console Dishwasher. It has a polymer tub and nylon rack,

comes with 5 wash cycles, 14 place settings and

3 spray arms, and is also aerogarden-parts-friendly as its space can take the grow deck and bowl of almost any of the aerogarden models if placed properly.
If you want a much more portable design, then you might want to consider the

Aikoper

Countertop Dishwasher. This is a very portable compact dishwasher with 6litres built-in water tank and water hose inlet, 3 place settings, 5 clean programs, high-tech design, automatic door-opening and built-in fan motor, all for your convenience. It is also spacious enough to take most aerogarden models, especially small- to medium-sized ones, and get them clean enough for another use.
How often should you wash the aerogarden in a dishwasher?
Generally speaking, you are required to wash the aerogarden, with your dishwasher, at any time before planting new crops or sowing new seedlings in it such that they will have a very suitable, clean, and conducive environment to thrive. Furthermore, when you clean the machine before planting, you are essentially reducing the chances of the plants contracting any disease pathogens that might have been left in the unit by previous plants.
Secondly, it is also highly recommended that you clean the machine, using a dishwasher, after harvesting your crops to maintain it in a condition that will be receptive to new plants when the time of the next planting comes. However, in between these two extremes; cleaning the gadget before planting and after harvest, you can give the unit a general wipe down on its outside surface even when you have plants growing. You can do this every so often with the aid of a piece of clean cloth or towel, at least once every two weeks or even once a week if the plants are not fragile.
Note that using the dishwasher to clean your aerogarden should be for only the dishwasher-safe parts. Other parts would be hand-washed.
Alternative ways to clean the aerogarden
The manufacturers expressly recommend that the aerogarden should be washed and sanitized often, whether before sowing new seedlings, after harvesting the last set of crops or during a planting season.
There are three alternatives to washing, cleaning, and sanitizing the aerogarden. These three methods of doing this will always come in handy at one point or another. There is the manual cleaning, which is said to be the best of them all, the washing in a dishwasher, at least for some of its components, and the last, though not a very formal way of cleaning the machine, is done whenever you decide to give it a quick wipe, especially on the surface or rinsing of the insides while planting. Whichever method you choose, just be sure your aero garden is getting a good cleaning for the sake of your plant's hygiene and your health.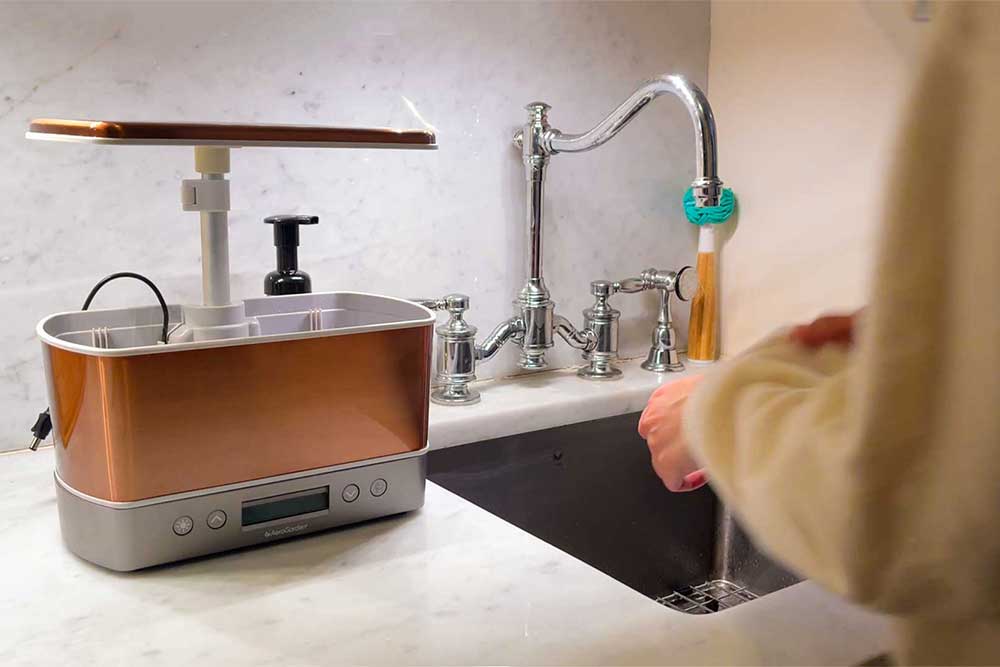 Conclusion
In summary, the aerogarden itself is not dishwasher-safe, except for the bowl and the grow deck, which you can wash in a dishwasher without any fear.
The aerogarden, like all other household utensils, must be washed once in a while to keep it clean and harmless to the plants. However, great care must be taken in doing it so as not to damage any parts with whatever method you may use in the clean-up. Nevertheless, cleaning the equipment by hand or manually is adjudged as the best method of them all. What is more, washing the gadget is both easy and fast as long as you adhere to all the necessary instructions to enable you to do it right.
Please follow and like us: